Madison Cawthorn cited for loaded handgun found at TSA checkpoint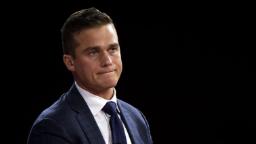 The loaded Staccato C2 9 mm handgun was discovered at Checkpoint D shortly before 9 a.m. ET Tuesday, according to the TSA.
"Mr. Cawthorn stated that the firearm was his and he was cooperative with the CMPD officers," according to a statement by the Charlotte-Mecklenburg Police Department.
Cawthorn has not responded to a request for comment from CNN.
"Mr. Cawthorn was issued a citation for Possession of a Dangerous Weapon on City Property, which is a City of Charlotte Ordinance. Mr. Cawthorn was released, and the CMPD took possession of the firearm, which is normal procedure," the statement said.
"It is standard procedure for the CMPD Airport Division to cite in lieu of arrest for the misdemeanor charge of Possession of a Dangerous Weapon on City Property unless there are other associated felony charges or extenuating circumstances."
Cawthorn is due to appear next month on misdemeanor charges of driving with a revoked license.
He has made a name for himself as a highly polarizing lawmaker during his relatively short tenure so far in Congress. In recent months, he has been at the center of multiple controversies that have sparked criticism from Republicans as well as Democrats.
Republicans are optimistic they will be able to retake the House majority in the upcoming midterm elections and are attempting to keep their message to the American people focused on criticism of President Joe Biden and the Democratic Party's agenda. Many in the party see Cawthorn's record of controversial actions as a major distraction that reflects poorly on the rest of the party at a critical time.
CNN's Gregory Wallace, Devon M. Sayers and Clare Foran contributed to this report.