How to dress like Oliver Dannefalk
I was surprised when I realised we hadn't ever featured Oliver Dannefalk in our 'How to dress like' series, given I've admired his style for years, particularly since he launched RubatoCarl Pers.
I assume it's because what he wears has effectively been featured in the various times we've covered Rubato itself. As with many small brands, his style is intrinsically bound up with the 'easy elegance' the brand espouses.
This is actually quite narrow in comparison to the variety of Oliver's clothing. I find his style inspiring because he mixes casual and formal styles, such as canvas sneakers with a coat or tassel loafers with vintage jeans. The way he mixes vintage clothing in there is also inspiring.
So in this instalment of 'How to dress like', I specifically asked Oliver about those types of combinations, while also presenting a range of outfits, from fairly smart to pretty casual. You can also see the rest of the series which features 16 other men I admire. here.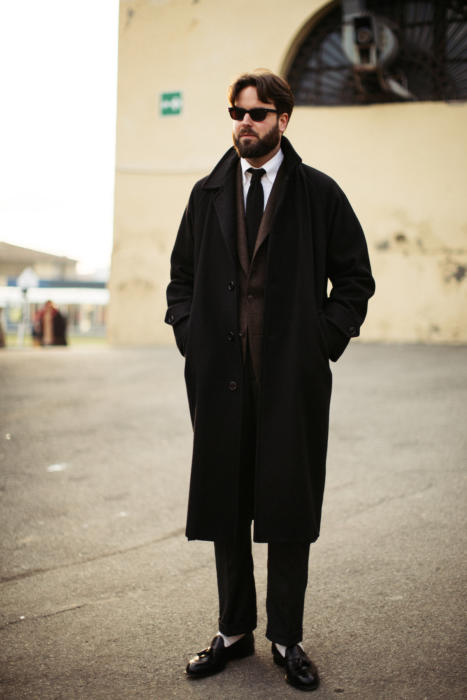 Outfit 1: Tailoring and white socks
Vintage black raglan coat
Black knit tie: Vintage
Saman Amel: Brown herringbone jacket
White shirt: Rubato sample
Grey cavalry twill trousers in cavalry twill: Bespoke from a Swedish tailor, now retired 
I've found it hard in the past to incorporate black into any outfit, except for a pair of shoes or a tie once in a while. My friend found me this vintage coat and it made more sense with its drama and elegance.
Here I wore it with a knit tie, crisp shirt, jacket and grey trousers – and white socks to take a little bit of edge off. I don't want to come off as too serious and dark.
Knitties are my favorite. This was the first tie that I bought for myself 15 years ago. My father bought me my first tie for graduation. It's possible that it is still available somewhere.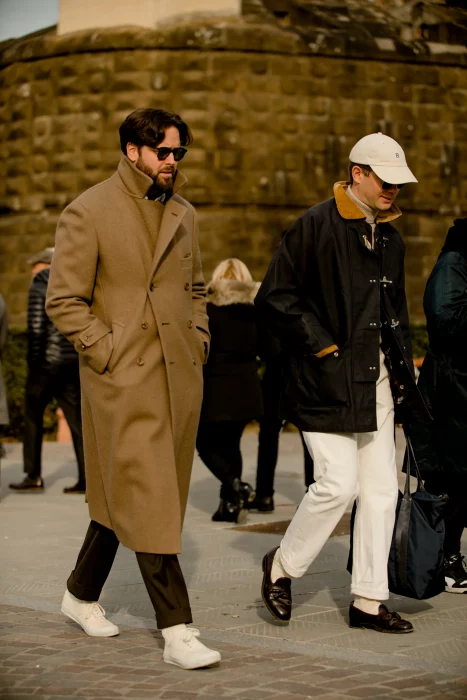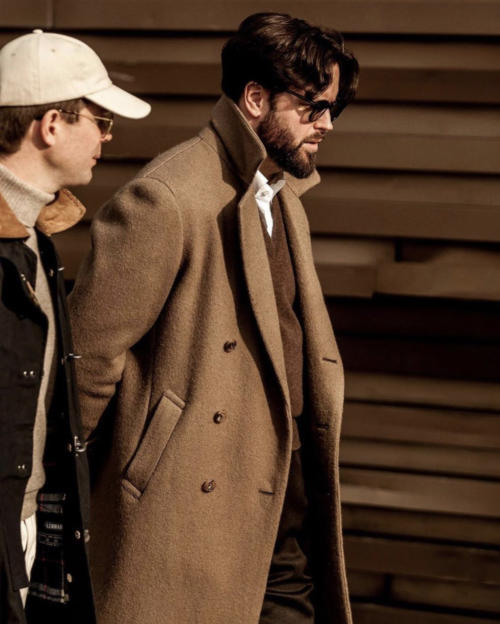 Outfit 2: Overcoat and sneakers
Bespoke coat in British Warm cloth by Fox Brothers: BnTailor
Brown cavalry twill trousers – BnTailor
Rubato: Brown V-neck
White shirt: Rubato
Doek oxford Off-White Canvas Sneakers 
I'd probably say my favourite colour is brown because of its warmth, richness and versatility. Plus a friend's mother once told me to always wear brown because it compliments my eyes. I took that advice to heart.
This outfit is a mix of casual and more formal clothing. You have the pleated trousers but you wear sneakers instead of loafers. You have the double-breasted heavy jacket, but you also have the V-neck knit and the jacket and tie.
This look is very comfortable and I love it. It works for almost all occasions. The balance between the casual and formal look is maintained by the use of the same colours. That's what makes it interesting in my opinion.
Outfit 3: Milsurp & knitwear
V-neck in sage: Rubato
White polo shirt: Rubato
Vintage white army chinos
Vintage green Swedish army jacket
Black velvet slippers: Bowhill & Elliott
Proportionate volume is key for me – both width and length – especially since I'm 190cm tall. I've always had trouble finding garments that fit me: mostly things are too short, too tight and don't fit my body proportions.
Vintage clothes are more versatile than modern ones. They are worn often and have a simple design and a comfortable fit. Here I'm wearing a take on the look above, but with a green Swedish army parka, white vintage army chinos and black velvet slippers.
The large parka adds drama to a simple look. The slippers, however, are very popular.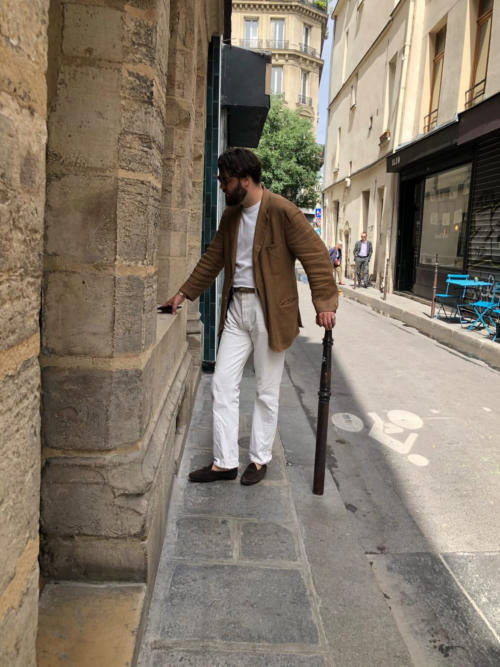 Outfit 4: T-shirt under tailoring
Linen jacket: Vintage Ralph Lauren
White Levi's: Vintage
Uniqlo White Tshirt
Beige suede belt: Rubato
Loafers – Marphy model from Rubinacci 
I used to always wear my collar. Since 2006, I was certain that I should always wear collars. It made me feel more dressed up, and that is how I wanted to feel.
As I grew older though I rediscovered my love of T-shirts, and of late I've started wearing them more and more with tailoring. It eliminates all frills and extras and creates a clean, crisp outfit.
The jacket in this shot is a vintage Ralph Lauren linen jacket (part of a suit) – another of those amazing vintage finds. Made in the nineties, it's a 52 Long(!) It works perfectly for me. It's nothing special, no crazy lapels or insane shoulder line, just a damn good jacket.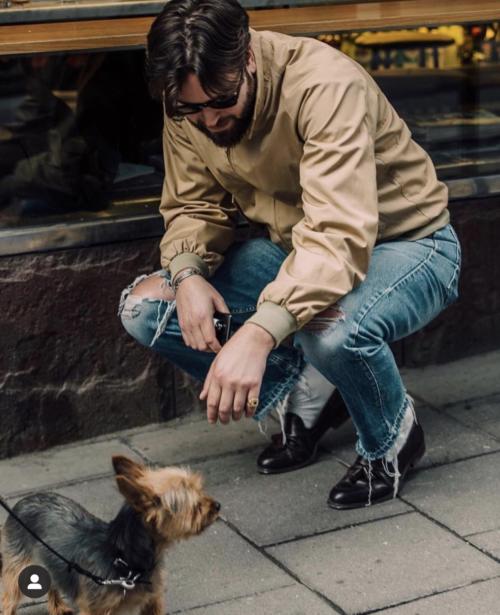 Outfit 5: Jeans and loafers
Vintage Baracuta Cotton Jacket
Jeans: Vintage Levi's orange-tab
Cordovan tassel loafers: Alden
This look is all about the tassel loafers to me.
You have this mod-ish look with the wrecked jeans and Baracuta jacket, and it would've made perfect sense to wear more casual shoes. The extremes are balanced by mixing the loafers with the overcoat and sneakers.
These jeans are likely beyond saving and I didn't make friends with the dog. It was more excited about something further up the street –  probably someone wearing jeans without holes in them.
If I have a conclusion, I think I'd my style consists in balancing casual and more dressed garments, new and vintage, bespoke and ready to wear. Dressing to suit the occasion but being subtle. I also value comfort above anything else, there's nothing worse than feeling uncomfortable throughout the day.
Nothing is perfect, so one's style cannot be perfect – something has to be off, and that's where character comes in.
Read Oliver's thoughts on buying vintage clothing, featured so heavily here, in this previous PS article. He also wrote a piece focusing on the arts, aesthetics, and other influences that influenced him. here.
Photography by Milad Abedi and Jamie Ferguson, @the.kyu, and Rubato