16 Profitable and Trending Digital Products to Sell Online in 2022
Digital products are something you may have heard of. Even if you haven't perceived the name, you may have come across digital products several times in your life.
But what if you think of selling such a product online yourself? You are the one who can sell it online. It is not rocket science for a digital product to be sold and earn a decent income online.
Many people sell digital products online and make a living selling them.
If you can't create one, there is an option for reselling too. Don't worry if you are unaware of all these.
I can help you understand the details and you will be able to choose a product and launch your business.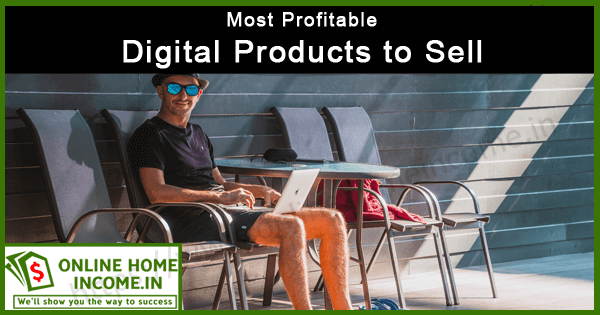 It is difficult to have a single source income in today's world. In such a scenario, how can someone save money and still live a decent life?
These days, people are so smart. They have found many online opportunities, and one of them is the sale of digital products.
If you aren't sure if this is something you should explore, I suggest you reconsider.
Let's get in detail.
What is a Digital Product?
A digital product is a product or service created with the help of electronic devices and doesn't have a physical form.
It is available digitally and can be sold online without the need to reproduce it multiple times.
Digital products can be found in computers and shared widely among people. E-books, mobile applications, images, audio, videos, and others are just a few examples.
All products and services existed before digitalization. Each product was purchased either with cash or through barter.
Everything has changed. The digital world has revolutionized our shopping habits and our lives.
Digital products are highly sought after because of their many benefits over the counterparts.
Some digital products can be reproduced in physical form. E-books, images, and other digital products are just a few examples.
It makes it easy for everyone, even those who aren't comfortable with digital usage.
However, I believe that people are more interested in digitalization in the 20th century and that everyone prefers to use every service online.
You can see the changes digitalization has made to your daily life. This includes banking, shopping and consulting a physician. Entertainment, education, and other areas are all included.
Digital products are very much in demand. It can be your own product, or you can sell it to others. This will provide you with a steady source of income.
Why are Digital Products preferred over Physical Products?
All over the globe, people prefer digital products. It offers many more benefits than physical products and services.
Few are.
Do not require a lot inventory
Consider the example of a book. You will need machinery to print and create the book, even if your content is ready.
It can be expensive to invest in inventory.
However, E-Books require the content and a few design tools to publish your book.
This process will take much less time than creating a physical book.
Do not require a physical space
A physical workshop could be an example of an art class. You will need some space to hold the class.
You can either rent or lease it if you don't have one. Both will cost money.
Because only people within a reasonable distance can access such a workshop and the students are therefore fewer,
Online, however, you can reach many interested students from all over the world. You can also provide your service online from the comfort of your own home.
They can also attend the workshop in their own comfort zone.
There is no delay in accessing the service
It takes a few business days to receive a physical product delivered.
It needs the assistance of intermediate persons to help with like packaging and delivery.
Any product, be it books, music albums or videotapes, can be used.
Digital products are sent to the receiver at the moment of the sending.
16 Profitable Digital Products You Can Sell Online
Apart from the fact that digitalization has changed people's perspective toward all products and services, Digital products are highly profitable.
Some of the reasons I have mentioned above, and without any delay, let's check a few of the most profitable digital products you can create quickly and sell it profitably.
1. Create E-books (educational product)
E-books are a great way to sell digital products online if you are interested in writing.
Depending on where you live, write fascinating and informative contentThat attracts people.
You can also record audiobooks and recipe books, as well as journals.
E-books can help people save space. They can be carried on any device, including mobile phones and tablets.
People prefer digital books these days. You can even get a decent deal. passive income.
Digital products are highly dependent on the marketing of your product.
You have the option of creating your own website or selling it on other ecommerce sites.
2. Online courses
You can share your knowledge online and make a living by teaching others.
All classes and courses have been moved online in the current pandemic.
Sharing your knowledge with the right people can help you earn more.
You can create an online course as a video, audiobook, text or both.
There are many topics that are always in high demand. If you aren't sure which topic to choose, you can search for one and begin your journey.
People will be more interested in discounts and offers. Your courses can be sold through your website or via social media.
Online classes are available to only members who have paid for it.
3. Digital Workshops
Workshops, like online courses are always in high demand. Practical works allow us to put what we've learned in practice.
Workshops to gain deep knowledge are very popular with many people.
Digital workshops are the best choice if you don't want to create an Ebook or conduct a course, but would like to share your knowledge and make money.
It can either be pre-recorded, or live sessions.
Pre-recorded workshops can be sold whenever a client visits. When the workshop is in high demand, you can conduct live sessions.
Through the online workshop, you can also promote other people's products or services. Promote it and you will earn a commission.
4. Prepare PDF guides
It is similar to an online course, but the difference is, it's in PDF format and is on a single topic.
You can create a PDF guide that explains step-by-step how to draw if you are skilled at drawing.
It can also be a guide to making your favorite recipes, which can be very useful.
These days, diet plans are also available as PDF guides.
You must first create a brand identity with people in order to sell your PDF guides.
People should feel that you are knowledgeable. To do this, you must market yourself and your knowledge.
Start by offering free samples. Start selling complete guides to gain trust.
5. Run Membership Sites
Members pay a monthly subscription fee to access membership sites.
Membership sites require you to regularly provide new content and entertain or inform your subscribers.
Don't worry if you can't make content regularly to update. You can create a lot and then give access to each subscriber one by one.
These membership sites could contain any information people find interesting. It can be a diet plan that is based on the seasons or a blog about fashion or DIY tutorials.
Your ultimate goal is to keep your members in your site by providing quality content that they want to see.
Your website can be created for a small investment. The details are another topic.
6. Templates (PowerPoint. Excel. Social Media Graphics).
A template is a type or file that has been pre-created. It allows the user to save time, and not have to design everything completely from scratch.
Templates are therefore in high demand.
You can create a template that is unique and attractive, such as a PowerPoint, resume, or wedding invitation template.
These templates are helpful people start their workSimply add their content to be shared.
If you offer templates at a cost, make sure that your service is better than the free ones available online.
Only then will people buy your service and refer others to it.
7. Create commercial music for businesses
Music is essential for all kinds of people. You can find music for filmmakers, YouTubers or podcasters, as much as you need for advertising teams.
Every business-minded person strives to stand out from their competition.
Music available for such people is limited, as almost all of them have royalty issues.
All are looking for royalty free music they can add in their videos.
You can choose this area if you can create high quality music (beats, sound effects, etc.).
You can create one type of music and then sell it to anyone.
You must keep customers coming back and offer new music that is engaging to them.
8. Images, Commercial Pictures, and Media
You might have seen images of people, animals, nature or laptops related to the topic you are reading about or watching online.
These are commercial photographs taken by professionals, and sold for a certain sum.
You may be able to create high quality images that others can use in their businesses. You can make money by selling them on your website.
Short videos, as well as pictures, are also available on-demand.
Start taking photos and creating images. You can make more money by learning how to edit images. selling photos online.
9. Programming scripts (for websites, apps, or other programs)
Are you proficient with programming languages? Can you create scripts that enhance websites or apps and then sell them?
You can either sell the license or give membership access to the programming programs you create.
Offering membership access is a better way to earn a steady income than licensing.
The licensing model will only pay you once. Subscriptions will pay you a monthly income.
You can also modify the programming script to reflect the latest trends. It's a great benefit for both your clients and you.
The licensing type is for you if you don't have time to finish a single script, but are keen to create new ones regularly.
10. Create Mobile Apps (Android / IOS)
Everyone is using smartphones today. No matter if you are a common person or a high-ranking professional, everyone has a smartphone. Mobile apps play a crucial role in this.
Companies are using mobile apps to build their brand.
It helps the business understand who is going to make a sale or are potential customers.
If you're able to create apps, your service will be in high demand. Even if you don't make apps for others, you can create your own app and sell it.
Gaming apps, diet plan apps, calorie counter apps, to-do list apps, money making appsThese apps are top of the list. Many apps can be downloaded online for free, and you can even give them a try by giving them a try.
However, you should ensure that you are able to provide in-app purchase options and receive frequent ads. These are the ways that you can make money by offering Apps for free.
11. Make Your Own Podcasts and Videos
Podcasts are audio files that users can download to their devices for later listening or viewing.
Podcast series are talks or discussions by one person or between two people about a topic, or current issue.
Major podcasts are completely free and make their income from advertising and promotions. Podcasts let you provide a link or notes for your listeners.
Some podcasts require small subscription fees to access. You can create a podcast and charge a subscription fee. To bring you passive income, offer your subscribers additional features and a guide.
It may look similar to membership websites, but you are actually selling audio files. Selling podcasts is a popular business model. profitable businessThese are the days.
12. WordPress Plugins and Themes
WordPress is the most widely used website builder. It's a free content management system that comes with a variety of themes and plugins. You can get 24/7 support for any issues.
These themes and plugins are more popular than hiring a full-time web developer.
You can either create one by your client's wish or make one of your own that you think people will like.
You can either sell it on your website or on marketplaces like ThemeForest.
It is important to keep your plugins and themes updated in order to make a good living from designing website themes and plugging into websites.
13. Create Website Templates (HTML/PHP, Bootstrap).
A website template is a pre-designed outline for a website. It shows all the features of a website and gives a detailed layout of how a website should look.
Websites templates ensure quick website design.
Someone with no technical knowledge of how to design or who doesn't have enough time may depend on these types of website templates.
There are many free templates online. Make unique websites using these free templates. Add more features to draw more customers.
There are two main types of templates. HTML template and CMS templates. Both are in high demand. You can make one if you are able to sell it.
14. Take photos for digital reselling
Photography is a skill. Selling your photos will bring you a steady passive source of income.
People prefer to see images rather than long paragraphs in order to understand a message.
Hence to grab people's attention, business and non-business groups require images for conveying some information to their audience.
Images make any content more appealing and more engaging.
You can also sell your camera on sites like Shutterstock, iStockphoto, and others if you are a professional photographer.
They will accept images from you for a certain amount. Running a website to sell your images is easy.
Although their payment may not be as high or as expected, it is still a good deal. You can still make a decent amount.
15. Develop New Web Elements
Website elements such as icons and fonts are essential. You can make a decent living if you are creative with designing these elements.
Calligraphy and handwritten words are amazing. It doesn't need to update like other digital products.
These are essential for event planners, wedding cards designers, and business websites, among others.
Pictograms used in computers to aid users navigate through the system are called icons.
This is a great way to test your creativity and then sell them on MyFonts or Creative Market.
16. Print your own printables and make them available for sale online
It includes coloring pages and worksheets, a timetable outline, and any other printable material.
It is highly profitable because you don't need any special equipment.
These digital products are also easily converted into physical form.
These can be created free of charge on sites like Canva. You can also sell them on Etsy to make a profit.
If you are confident that your printables are good and people will buy them, don't hesitate to try.
Conclusion
After having discussed the 16 profitable digital products, I hope that you can make a decision on which one to sell.
Although it sounds easy, the field is booming and there is intense competition.
If you have the right talent, then nothing can stop you and, it's easy to earn selling digital products.
But if else is the case, I can't assure your success.
Before you decide to make a career selling digital products, be sure to understand the customer's needs and be creative in creating quality content.
There are many platforms that allow you to sell digital products online. Don't waste your time. Start creating digital products for promotion.
FAQ on Selling Digital Products
How to sell digital products online
Create the product you want. The platform that best suits your product is the one you choose. Your website will allow you to have complete control over your products. You can also choose the right platforms and feel free to relax. To increase sales, drive more traffic to your product.
Can I make a profit selling digital products online?
Of course, you can. You can make more money by choosing the right product and using free tools to create them. Do not underestimate digital products. It is possible that the competition in the area you are interested will be lower than you expect. However, this can lead to higher income than traditional products.
How can I sell my digital printables?
Digital printables can be sold on websites like Etsy and Fiverr by newbies. You can earn more by creating a website and quoting your price. Make sure your printables are in high-demand to ensure you get good sales.
Is it possible to make money selling templates?
Yes, You can. Templates are very in demand. However, you should make sure your templates are better than the free ones that are available online. These templates can be purchased on Sitepoint, ThemeForest, and eBay.
Is it possible to make a living selling digital downloads?
Digital downloads are very popular because they are convenient and portable. Many can be converted into physical items. Digital products offer many advantages over physical products. People are switching to digital products. It is possible to make money selling digital products.