10 Popular and Unique Television Channels That No Longer Exist
Television broadcasting has been vital throughout history. Millions of people tune in to television every day. Television has become the main source of entertainment and information for all people around the world. Information and entertainment are the core of modern society. Even with the rise in social media, television broadcasting keeps everyone updated on the latest news and weather. There is always something new to learn through the news, documentaries and commercials. Television viewers also have entertainment options through movies, comedy, and sports.
All of this was possible because of the emergence and evolution of television channels throughout history. Some of these channels were around for decades. Many others were rebranded. Some of these channels were also closed down or replaced by newer channels after only being around for a brief time. This list accounts for ten popular television channels that impacted television broadcasting—whether good or bad—even after being closed down.
10 Setanta Sports Channel (UK)
Setanta Sports is a familiar name to most English Premier League fans. Eircom Limited (EIR), bought the sports channel, which was founded in the United Kingdom in 1992. Eircom Limited (EIR) was a telecommunications company based in Ireland. It purchased Setanta Sports to bring Irish sports to the world. The channel was very popular and expanded to operate all over the United Kingdom by 1998.
Eircom was able expand its television coverage by acquiring Setanta. Setanta also acquired broadcast rights to American football, English rugby union, boxing and American golf. Setanta also took a major step by acquiring broadcast rights to the Scottish Premier League in 2004, and 46 Premier League matches between 2007 and 2010.
Despite fierce competition from Sky Sports, the channel seemed to be growing rapidly. The channel was bound for trouble because it borrowed millions of dollars to acquire rights to certain sports matches. The UK-based company was on the verge of collapse, with a debt of around £250 million. Setanta was forced into bankruptcy in 2009 after failing to make payments for television rights, owing the English Premier League £30 million. Several British football clubs found themselves in financial trouble during the 2009/10 season. The channel was in debt and had to close.
Setanta was still active in Eurasia after Discovery bought the Asian channel. All other international versions of Setanta's television channel, even those that were based in the UK, have been purchased by media companies. Sky Sports has been expanding its brand and is now one of the most respected media outlets in sports.[1]
Despite Setanta's problems, it brought joy to football fans all over the United Kingdom.
9 The Comedy Channel & HA!
The world cannot have enough laughter, but that doesn't mean it needs two comedy channels. In 1989, there was a total of two comedy networks. They merged on April 1, 1991. Home Box Office tried to bring the chuckles 24 hour a day with Comedy Channel, while Viacom had a similar concept, launching HA! About five months later, in April 1991, the two channels merged to form Comedy Central. Finally, Comedy Central was created when both channels merged.
Before the channels mergedComedy Channel was a comedy channel that specialized in stand up comedy specials and clips of classic comedy from feature movies. However, HA! Produced content was centered on comedies about acquired situations outside of the network.
With only seven million subscribers each, both channels failed to grow significantly in their years together. Both industries executives claimed that the reason both channels did not develop was because of the reluctance to join the war between two industry giants. The 50-50 marriage gave comedy television a 15-million-subscriber pool, almost double the average starting capital. Comedy Central, which was merged into television channels, became Comedy Central. This channel is currently very popular among American television viewers.[2]
8 HawkVision
HawkVision was a United States television station that was first discovered in 1992. It was a short-lived subscription television service that Bill Wirtz, the Chicago Blackhawks owner, founded. After the 1992 National Hockey League season, the ice hockey team did not have their home games televised. The Blackhawks owner thought it would be unfair to broadcast them. season ticket holders.
Bill Wirtz decided that HawkVision would be a subscription service and to cancel all traditional broadcasting offers from different television channels. HawkVision was established to broadcast Blackhawks' games from Chicago to the homes of their fans. The fee for HawkVision was $19.95 per game. HawkVision continued to operate after the Stanley Cup playoffs. Wirtz offered access to regular-season home matches for $29.99 per monthly. The price hike was met with anger from the fans. It was unlikely that anyone would be willing to pay such a high price. After only one season, HawkVision was no longer profitable. The channel's ticket sales plummeted dramatically. Bill Wirtz died in 2007 and the home-game television restriction was removed.[3]
7 ITV Play
ITV Play was a British 24-hour participation TV station that aired only for a short time. Due to the scandalous premium rate phone-in scandal, ITV Play was shut down for less than a year. It ran shows like The Common Room, The Debbie King Show, and the popular quiz program, Quizmania.
The TV channel was accused of charging people a lot to participate in contests that had very low odds of winning. ITV set aside £5 million in its half-year results to deal with the financial fallout from the premium-rate phone-in controversy. The Deloitte report as well as other inquiries into its phone calls had to be paid by the business. As a result, the broadcaster announced in 2007 that it had set aside £18 million to cover the incident.
All interactive voting and text on shows ended after that. Phone-in voting on the X-Factor show was also stopped. ITV stated on March 5, 2007 the suspension of all premium-rate phone competitions, quizzes, and ITV Play channels. In the early hours on March 6, 2007, ITV Play closed its channel.[4]
6 Men & Motors
Men & Motors was a lifestyle television channel in the United Kingdom. The channel was created in 1996 and focuses exclusively on men who love motors and women. Millions of viewers were bound to tune in to see a show that featured cars and women. Men and Motors produced many car content shows. They also fueled action movies, adult cartoons and plenty of footage featuring thinly clad women.
Unfortunately, the channel's existence on Freeview was cut short by the end of its first year. To make way for ITV Play, the channel stopped broadcasting on terrestrial digital television. Men & Motors was then only available on satellite and cable television because of the restricted bandwidth on the platform and a wish to retain the ITV family.
The channel was relaunched in 2012. Shane Lynch, Torie Campbell, were the new hosts. One Media bought the rights to create a new revenue stream. Men & MotorsFrom Granada Television Products, and ITV Digital Channels. The new channel has thrived since it was launched. YouTube offeringIt has 134 million viewings in 2020. It airs the most popular shows from the extensive archives in an on-demand format.[]
You wouldn't guess by looking at it now, but the Men & Motors channel was a force to be reckoned with when it was active.
5 Dumont Network
Dumont was a pioneer in American television and media networks. During the 1940s, the United States' television industry was dominated by the Columbia Broadcasting System (CBS), Dumont and the National Broadcasting Company. During World War II, the majority of television channels had only sporadic television programming. Dumont, however, negotiated a deal with advertisers. The network ran a midweek program where advertisers and sponsors could use Dumont labs to promote their products. Dumont Network was ambitious in comparison to the other major television networks. Every show was held in the Dumont building, which is owned by the Dumont Corporation. Honeymooners was among the show's sketches, inspiring the popular CBS sitcom, Gleason.
Dumont was unable to afford the same financial resources as CBS and NBC, so the network fell behind them in terms of star power after the 1940s. After the merger of United Paramount Theaters and American Broadcasting Company (ABC), Dumont was ranked fourth in Nielsen ratings. Dumont was unable to expand the network because of the restrictions imposed by the Federal Communications Commission (FCC). Dumont was close to purchasing ABC, making it the largest American station until the FCC rejected the purchase. Paramount provided financing for ABC. To save money, Dumont converted to Ultra High Frequency (UHF), broadcasts. UHF transmissions were not popular in the 1950s, so the channel was closed.
Dumont Network and all other American television channels during the 1950s were severely affected by the high cost of transmission and the FCC limit.[6]
4 Nuts TV
Television nostalgia enthusiasts may be familiar with a short-lived British television channel that aired a variety of bizarre and fun content. Nuts TV, a British television channel, debuted in 2007. Nuts TV, unlike other failed stations was available on the Freeview channel. It was unable to attract viewers despite promising a never-ending supply of bizarre content. Nuts TV featured celebrity hosts Lucy Pinder and Dan Wright as the hosts of the shows. The evening content had the same format. Every night started with news, followed closely by sports, girls and sex-related content.
It was not on our screens for more than two years, which was a shame. It featured a wide variety of fast-paced, unique comedies. It also featured a bizarre segment in which Lucy Pinder, the famous model, read famous works of "literature" while dressed in lingerie. The channel aired live television for 20 hours every week on Freeview channel42.
The Cable News NetworkNuts TV was replaced by CNN. It was to debut on Freeview in January 2009. However, it needed approval from Digital Television Multiplex Operators Limited. This company oversees all Freeview channels. The Nuts television channel was inactive in 2009 and the Nuts magazine followed five years later.[7]
3 The Cable Music Channel
The Cable Music Channel (CMC) was a short-lived American cable network owned by the Turner Broadcasting System (TBS). Ted Turner created the all-music video channel. It debuted in 1984. Ted Turner wanted MTV to have a chance at its music and money, and the Satellite News Channel was up against CNN back in those days. However, not all of his ideas were successful. MTV had Madonna act like a virgin live on television. CMC was more family-oriented. "I Love L.A." by Randy Newman was the first video to air on CMC. Turner introduced the music channel to much excitement following his music video series, Night Tracks. MTV was still trying to expand its distribution so there was no need for a second music network on cable systems.
After a month, Ted Turner decided to close the business. The Cable Music Channel was sold to MTV's parent company because it lacked the cable providers, videos, and viewership to compete with the all-music channel. The Cable Music Channel aired October 1984 to November 1984. MTV, however is now one the most popular entertainment channels in the world.[8]
2 Sumo TV
Imagine a world where users could create all the content and you could build a platform. Sumo TV launched in 2006 and claimed to be the first user-content TV channel. Unfortunately, not everyone had access to high-quality cameras and widespread internet access in 2006. YouTube was only recently launched so this idea was amazing. However, a user-generated format cannot work on broadcast television. Sumo TV lost because of this.
Unsurprisingly, the channel faced a problem with the Office of Communications (Ofcom)—the British version of the FCC—for imposing broadcast regulations on the people who sent the clips. Ofcom warned broadcasters about user-generated content after ruling against two Sumo TV clips.
Ofcom was concerned at the responsibility of creators for adhering the Sumo network's broadcasting code on user-generated clips instead of the network performing adequate checks. In 2012, the channel was officially shut down and replaced by Horror Channel.[9]
1 National Educational Television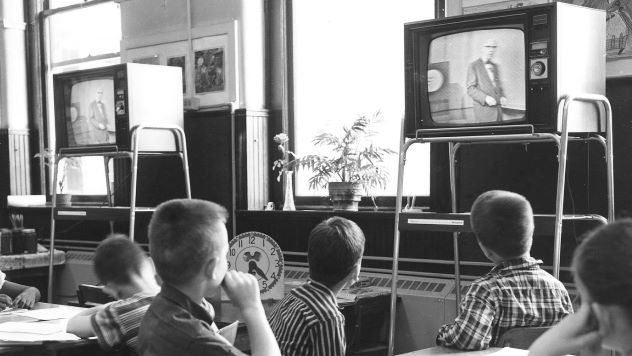 National Educational Television (NET), a public and educational television network, was established in 1952. It was previously owned by the Ford Foundation, but it was later acquired by the Corporation for Public Broadcasting. From 1952 to 1972, the NET collection included a number of television programs on science, education, and public affairs. The channel aired documentaries and discussionsOn the black freedom struggle and the Vietnam War, Cuban Missile Crisis, poverty, student activism, and the Vietnam War.
1963 saw NET start to air documentaries that dealt with issues of poverty and racism. The channel's perceived liberal bias made it unpopular among viewers. The Ford Foundation and government decided to stop funding the channel for continuing to broadcast such content. Within a year, the channel lost so much money that it was forced to shut down.
The Educational Channel was closed down in 1969 when the Public Broadcasting Service (PBS), replaced it. The NET's refusal to stop airing the critically acclaimed but contentious documentaries led to its closure by both Ford and the Corporation for Public Broadcasting in 1970.[10]